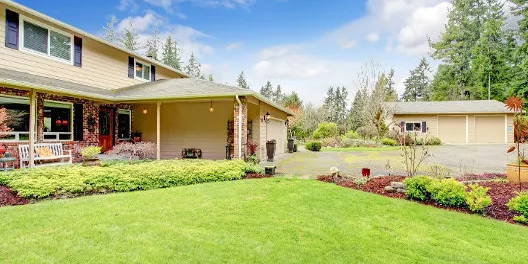 Julie Kinworthy, Dakota Carol's Licensed Assistant, offers some great advice on landscaping specifically in North Dakota:
I've always loved a nicely landscaped yard. Even as a kid growing up in the Deep South, I liked our yard to be mowed and nicely trimmed, and I especially loved the flowers that came up every year in our flower bed in front of the house. After I grew up I had plans to do the same thing to my own yard. With the first house we purchased, I dabbled in the world of gardening and landscaping and scratched the surface of being well versed in the subject. Then we moved to North Dakota where, well, things were different, and I had no clue what worked here and what didn't.

This winter as spring fever was hitting hard, I discovered a book called, "Successful Gardening on the Northern Prairie", by Eric Bergeson. I read a sample chapter and knew that, as a North Dakota newcomer, I needed this information. What I quickly learned from this book is that things really are different here than almost anywhere else in the country. Surprisingly, I think it is a good thing. Here are some of the reasons why from Bergeson's book:
Annual flowers perform better and for longer than in areas further south.

The intensity of the bloom color of flowers is deeper here because of our cooler nights.

We can grow enormous cabbage and broccoli here (my kids do not see this as a good thing).

We have less plant diseases and pesky insects.

Fruit is sweeter and more flavorful.
My interest in landscaping is only slightly trumped by my interest in real estate. Because of that, I look at everything through the eyes of what will make my house sell better one day. I have seen the difference a well landscaped home makes when it comes to a quick sell. With that in mind, here are some tips that I learned about landscaping your home from "Successful Gardening on the Northern Prairie":
Plant trees! I never realized how valuable a tree is until I moved here. Definitely plant trees, but think about where you plant them and what that will look like in 20 years. Also plant trees that grow well here. It's too pricey and time consuming to plant trees that can't handle our climate.

Plant shrubs. Personally I always thought shrubs were rather boring, but Bergeson's book changed my mind. He has some great advice on where to place them around your home and which varieties to choose. For example, plant shrubbery in the corner of your house first and make sure they are large and very hardy. This will help soften the corners.

Use odd numbers of plants and avoid planting rows. Non-uniform and odd numbers of plants are more natural and pleasing to the eye.

Avoid permanent planter boxes. Either plant plants directly into the ground or in easily moved containers. Permanent planters are great until they get neglected one summer, then they are a real eye-sore.

Avoid islands of plants in the middle of the yard. Concentrate on plantings around the house and the edges of the yard.

Don't draw attention to an eyesore like a utility pole by planting pretty flowers beside it. Plant something attractive at another place in the yard to draw the eye away from the not-so-pretty thing.

Plan for the future. Consider the size of the plant when it is full grown when deciding the location of the plant and avoid the temptation to plant things too closely together.

Consider the wind and the sun your plant will be exposed to. We have serious wind here and not everything can take it. Many of the plants that thrive here need sun all day.

Plant for winter interest. We do get an awful lot of winter here, so plant things like spruce and pine, Flame Willow, Red Splendor Flowering Crab, Red Twig Dogwood, White Birch and ornamental grasses which all add beauty to those long, cold days.
I've just touched on a few of the gems in this book that have to do with landscaping your yard. If you are interested in learning more about trees, annuals and perennials, vegetables, and everything you ever want to know about how our unique soil needs peat, make sure you get a copy of, "Successful Gardening on the Northern Prairie".

Click here to order your copy: https://ericbergeson.com/purchase/successful-gardening-on-the-northern-prairie