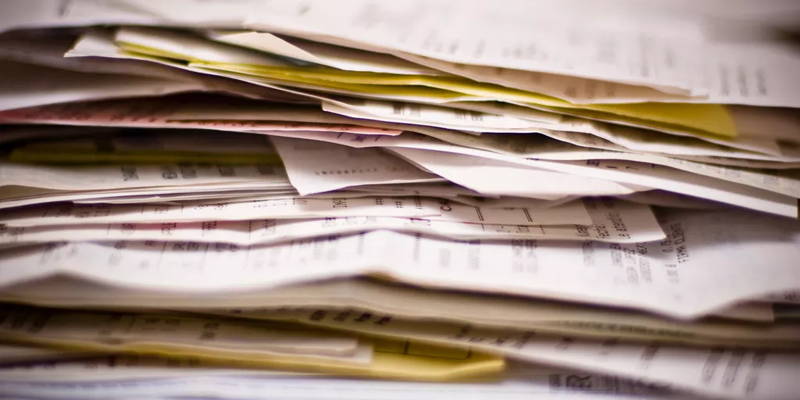 Prior to my current status as Dakota Carol's Office and Transaction Coordinator, I was a Professional Organizer. During that time, I learned that paper is probably the most overwhelming and common frustration for anyone wanting to get organized. Here are a few tips on taming the paper tiger that I've learned:
First and probably most importantly, in the great mountain of paperwork in our homes, there are very few pieces of paper that are really necessary to keep long term. Most records are available through other sources. Even if you aren't online savvy, most financial statements are accessible with a quick phone call to the company that created them. Warranties and product information are typically available online also.

The one big exception to the first tip is that if you own a business, the IRS will require you to keep evidence of your deductions. (Click HERE for a list of what the IRS says to keep and for how long.) Other important things to keep include birth and marriage certificates and divorce paperwork. Tax returns should be kept for about 7 years. According to Dave Ramsey, you should also keep records of paid-in-full debts indefinitely. (Click HERE for more information on organizing important documents from Dave Ramsey.) Real estate records should be kept for as long as you keep the tax returns associated with them. Of course if you buy or sell using Dakota Carol, know that you can always ask us for a copy of real estate transaction records.

If you are techy, it is safe and easy to use a cloud-based file storage like Dropbox or Google Drive. That way, when in doubt, you can always scan and save your paperwork digitally. Speaking of scanning, if you are searching for a great scanner click HERE for details on the best scanner ever.

Incoming paperwork into our homes can lead us all to lose our minds. The best tip I can share is to have a system. I only deal with paperwork once a week, so I have two inboxes near my entrance. One is for incoming mail and the other is for incoming school papers. Once a week, I go through each inbox and divide it into separate categories like trash/shred, bills to pay, and needs action. The school paperwork gets a quick review and then mostly discarded. Determine a paperwork flow system that works for your household. The key is working the system regularly.
Don't let the paper tiger take you down in your home. Tackle it one paper at a time.
- Julie Kinworthy, Dakota Carol Office and Transaction Coordinator